Our high-energy Seminars and Workshops will put your hard earned money back on your bottom line. We can also tailor "train the trainer" solutions enabling your staff to train future employees and refresh existing employees' skills. Start taking back control of your losses today!
Live Webinar Seminars Would like to attend one of our seminars from the comfort of your desk? LPSI offers them on-line via a live Webinar. Each session lasts a little over one hour. The Webinar includes:· A copy of the slides for you to keep· Live question and answers.
[pexyoutube pex_attr_src="https://youtu.be/wLX26xMQJvc"][/pexyoutube]
The cost for each session is $229. Buy two and get them both for a total of $320.
If you would like to attend a Webinar please contact us or call 1-770-426-0547, ext. 101. We accept Amex, Visa, MasterCard and Discover.

Theft due to shoplifting is an ever-present scourge to retail businesses.  With profit margins falling the loss of even one item can significantly impact profits and sales volume.  Our Shoplifting Prevention training gives you the tools to help analyze your vulnerability and develop a program that will focus on Preventing Shoplifting.You will learn what the three types of shoplifters are, what their behaviors are and a comfortable way to approach them, leading them out of your space.  The Shoplifting Prevention training will also cover state law and how to develop your own procedures.
Click here to contact us for more information.

In this seminar we will teach you how to effectively talk to your employees about the touchy and sometimes uncomfortable subject of employee theft.
This is an aspect of loss that affects the entire company and your employees should know how to recognize and deter it for the good of the entire company.
Click here to contact us for more information.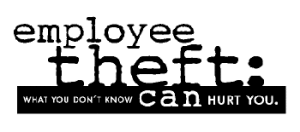 As uncomfortable as it is to think about, your employees could be stealing from you. Our in-deapth Employee Theft Prevention training will give you the cold hard facts about employee theft and how you can prevent it within your business.Why and how do employees steal?
Cheating on time cards

Fraudulent refunds to stealing

Taking merchandise and company property

Sweet heart deals for friends and family
Learn how to:
Prevent employee theft

Define and spot employee theft

Understand its full impact on your business

Identify the sources of cash and inventory losses

Handle handle situations when they occur
Our Employee Theft Prevention training will also cover:
Personality profiles and warning signals that lead to employee theft
Legal aspects of employee theft both civil and criminal
Click here to contact us for more information.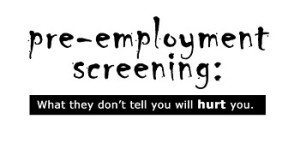 Our
Pre-Employment Screening
session will teach you techniques to determine if a candidate is right for your business.  You will learn how to conduct pre-employment interviews and how to use background investigations while staying in compliance with the law.  You will gain useful tools such as how to ask the right questions in the correct way and the candidate will tell you if they are using drugs or if they have stolen from previous employers.
You will also walk away with a list of 100 questions you can ask during the interview.Click here to contact us for more information.