The Bottle Cap Tag provides maximum anti-theft protection for wine and spirits. This innovative hard tag fits most bottleneck sizes to prevent theft, in-store consumption or bottle content transfer. Its slim, transparent design provides a strong visual deterrent without interfering with merchandising or brand promotion. Containing both an AM non-deactivateable label and RF ferrite technology, this hard tag will alarm any EAS pedestal system if protected product passes through the detection zone.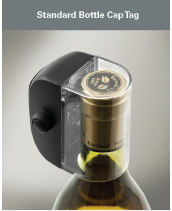 Retailer Values
SuperTag, the gold standard in assetprotection, features a patented clampdesign for superior defeat resistance
Strong visual deterrent for high-theft, high-value wine and spirits
Fits most bottle neck sizes
Form factor minimizes impact on store merchandising and brand promotion Promotes open merchandising for increased sales
Solution Application

Spirits, Wine, Bottled Products
Product Codes

AM & RF Technology

Standard Bottle Cap

ZLAMT6017-5 (5kG)

ZLAMT6017-9 (9kG)
Large Bottle Cap

ZLAMT6017L-5 (5kG)

ZLAMT6017L-9 (9kG)
Product Compatibility

Detachers

Magnetic 9kG Detachers

Magnetic 5kG Detacher

Magnetic 5 and 9kG Detacher
Detacher Type

Magnetic
Environmental Constraints

Temperature

Storage temperature range: 0-40°C (32-104°F)
Humidity

Unaffected by 20-85% humidity

Specifications

Color…….. Black

Length…… Standard: 47.5mm (1.87in) Large: 78.2mm (3.07in)

Width……. Standard: 41.5mm (1.63in) Large: 49.0mm (1.93in)

Depth……. Standard: 18mm (0.71in) Large: 72.2mm (2.84in)

Weight…… Standard: 65g (0.144lbs) Large: 81g (0.18lbs)

Pullout Force………. 45kg (99.20lbs)

Lock Magnetic Strength….5kG, 9kG
Loss Prevention Systems is a Global Authorized Partner – Contact us today for information on Sensormatic products.