Libraries have their own challenges. A free flow of information does not mean free books.
How do we provide a library environment that allows customers to have open access but restrict unauthorized removal? Checkpoint Systems are the solution. State-Of-The-Art systems that not only provide protection to books, periodicals, magazines, documents and media but allow you to count visitors with VisiPlus People counting built right into the Checkpoint System.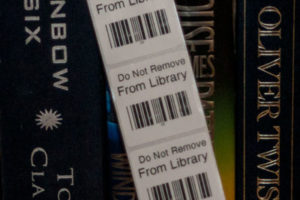 Checkpoints paper thin labels can be applied easily by staff. Labels come in a variety of sizes and styles. From clear labels such as the EP3210  to a label that you can print your Libraries information on including barcodes and logos.
VisiPlus automatically counts your visitor traffic by hour of the day. This data is automatically uploaded and the data comes to you in your selected format. Combine VisiPlus data with other data from your systems to give you a more complete operational picture. This data will assist you with staffing decisions. Do you have too many or too few people working at a given time? VisiPlus data also tells you when unauthorized removal alarms are occurring, helping to pinpoint your needs. Our customers have experienced significant savings in labor, operations and security.
Checkpoint's EVOLVE Systems blend into any Library environment. With a variety of styles such as the Classic Style or the G10 Clear Plexiglas Style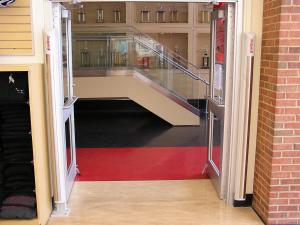 Or if you want a more discreet look how about the S10? The S10 mounts to the door frame or wall. An optional mounting post is also available.
For a more classic look how about the W10?  This unfinished Oak cover antenna can be finished in any color to match the woods in your Library.
All of these systems can be fitted with the optional VisiPlus People counting system.
Loss Prevention Systems (LPSI) is your NATIONWIDE Official Checkpoint Dealer. We can install anywhere in the Continental US. We have a long history and experience with not just Checkpoint but with theft prevention strategies, training and policy development. You get it all when you purchase your Checkpoint system from us. LPSI includes on-site Checkpoint system use training by our Factory Technicians. We also will provide you with materials to train your staff in the use of the system and the development of your policies and procedures.
Loss Prevention Systems supplies you with factory fresh genuine Checkpoint labels. You will never get cheap labels that fall off after six months due to poor adhesive.
Oh, and all Checkpoint EVOLVE systems provided by LPSI come with a 5 YEAR electronics warranty! This is an industry best that you won't find from another manufacturer.
Call Loss Prevention Systems today! We can have a quote to you in a matter of hours and have your Checkpoint System installed in a week or two.
Let us help you protect your materials and reduce your operational budget!