Magnetic 9kGMulti-Purpose Tag by Sensormatic Information

This multi-purpose hard tag secures products ranging from bottled wines and spirits to sporting goods and
apparel. Featuring a multi-strand steel cable and nylon clamp, this versatile solution provides superior protection
while minimizing impact on product merchandising.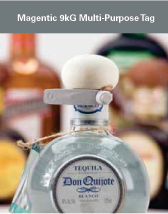 Retailer Values
SuperTag, the gold standard in assetprotection, features a patented clampdesign for superior defeat resistance
Multi-purpose tag secures hard goods, soft goods and everything in between
High magnetic strength for superior protection
Promotes open merchandising for increased sales
Solution Application

Bottled Wines, Spirits, Sporting Goods, Luggage, Power Tools
Product Codes

ZL410B-G
Product Compatibility
Detachers

Magnetic 9kG Detachers

Magnetic 5 and 9kG Detacher
Detacher Type

Magnetic
Environmental Constraints
Temperature

Maximum storage temperature not to exceed 60°C (140° F) for 96 hours at 80% RH.
Humidity

Unaffected by 80% humidity at 60°C (140°F), up to 96 hours.
Specifications

Color………….. Gray

Length………. 54mm (2.1in)

Width………..13mm (0.51in)

Weight………… 9g (0.31oz)

Pullout Force………. 40.82kg (90lbs)

Lock Magnetic Strength …… 9kG
Loss Prevention Systems is a Global Authorized Partner – Contact us today for information on Sensormatic products.