This Pencil hard tag protects everything from heavy denim to delicate intimate apparel. Featuring a modern, defeat resistant design and easy application/ removal at the point-of-sale, this ferrite hard tag is ideal for protecting a wide variety of merchandise. This unobtrusive, visible deterrent is a desirable addition to any existing AM, EAS or RF system.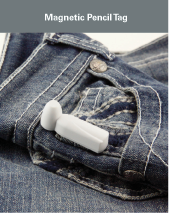 Retailer Values
Small aesthetic design minimizes impact to merchandise on display
Promotes open merchandising for increased sales
Solution Application

Apparel, Delicates/Intimates, Outerwear, Denim, Sportswear
Product Codes

AM/Ferrite Technology:

ZLAMT6016-5 (5kG) – Tack included

ZLAMT6016-9 (9kG) – Tack included
RF Technology:

RFT6016-5 (5kG) – Tack included

RFT6016-9 (9kG) – Tack included
Product Compatibility

Detachers

Magnetic 9kG Detachers

Magnetic 5kG Detacher

Magnetic 5 and 9kG Detacher
Detacher Type

Magnetic
Environmental Constraints

Temperature

Storage temperature range: 0-40°C (32-104°F)
Humidity

Unaffected by 20-85% humidity

Specifications

Color………………… Grey

Length……………..45mm (1.77in)

Width……………… 19mm (0.748in)

Depth………………12mm (0.472in)

Weight……………..7.5g (0.264oz)

Pullout Force…… ≥ 45kg (99.2lbs)

Lock Magnetic Strength……..5kG, 9kG
Loss Prevention Systems is a Global Authorized Partner – Contact us today for information on Sensormatic products.