Magnetic RF Bottle Tag by Sensormatic Information Page

The Magnetic RF Bottle Tag provides secure anti-theft protection for a wide variety of bottled wine and spirits. This
versatile hard tag features an adjustable multi-strand stainless-steel reinforced strap that attaches to assorted bottle
neck sizes for a strong visual deterrent. Its small form factor does not interfere with brand promotion or product
merchandising, while its intuitive design is quickly and easily applied and removed, helping improve in-store operations.
Retailer Values
Strong visual deterrent protects bottled wines and spirits without damage
Minimizes impact on store merchandising and brand promotion
Easy application and removal ensure ease of use at POS
Promotes open merchandising for increased sales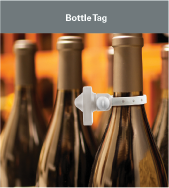 Solution Application

Bottled Wines and Spirits

Product Codes

RFT6019-5 (5kG)

RFT6019-9 (9kG)
Product Compatibility

Detachers

Magnetic 9kG Detachers

Magnetic 5kG Detacher

Magnetic 5 and 9kG Detacher
Detacher Type

Magnetic
Environmental Constraints

Temperature

Storage temperature range: 0-40°C (32-104°F)
Humidity

Unaffected by 20-85% humidity

Specifications

Color Tag……………… Light Gray

Lanyard…………. Off-White

Length Tag…………36mm (1.41in)

Lanyard…………..167 ± 5mm (6.57 ± .20in)

Width……………… 30mm (1.18in)

Depth…………18mm (0.71in)

Weight………… 19.05g (0.144lbs)

Pullout Force…….>30kg (65lbs)

Lock Magnetic Strength……5kG, 9kG
Loss Prevention Systems is a Global Authorized Partner – Contact us today for information on Sensormatic products.