Information on RF 33mm Round Roll Label by Sensormatic®

The RF 33mm round label delivers dependable performance and merchandise protection using RF technology. The label's small footprint minimizes impact on brand promotion and important product information, allowing application on virtually any package size. This label is designed for automatic application at the point of manufacturing. When applied to merchandise at the point of manufacturing, retailers receive floor-ready merchandise with consistent label placement to expedite receiving and selling floor fulfillment.
Retailer Values
SuperTag, the gold standard in assetprotection, features a patented clampdesign for superior defeat resistance
Provides visual deterrence while minimizing impact on brand promotion and important product information
Protects merchandise by tagging at the point of manufacturing so merchandise arrives shelf-ready
Permits open merchandising while still combatting theft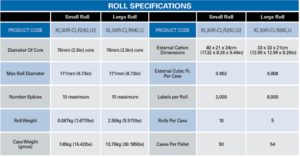 Product Codes
Small Roll:
XL30R-CLR2KLU2: Clear
Large Roll:
XL30R-CLR8KLU: Clear
Technology
RF
Environmental Constraints
Temperature
12°-25°C (54°-77°F)
Humidity
55% maximum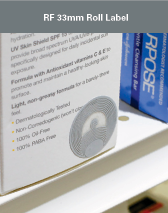 Shelf Life
Small and Large Rolls:
Two years from date of manufacture when labels are stored between 12°-25°C (54°-77°F).
Mode of Application
Small Roll:
Hand or Tabletop
Large Roll:
Automatic
Materials of Construction
70μm AL+8μm CPP+10μm AL
Hot Melt Adhesive
934E Henkel
Dimensions
Color………………………….. Clear
Diameter…………..33mm ± 0.5mm (1.30in ± 0.0197in)
Thickness……….0.20mm ± 0.015mm (0.0078in ± 0.0006in)
Liner Width………..35.5mm ± 1.0mm (1.40in ± 0.0394in)
Label to Liner Spacing ………..2.9mm ± 0.5mm (0.114in ± 0.0197)
Note: Warranty terms and conditions are as specified in the applicable Sales Agreement.
Loss Prevention Systems is a Global Authorized Partner – Contact us today for information on Sensormatic products.