SuperTag III Lanyard by Sensormatic Information

This SuperTag provides top-of-the-line protection for high-risk items unable to be secured with a pin-style hard tag.
The integrated lanyard cable contains a stainless-steel pin for superior defeat resistance in a light, easy-to-use format. The sleek shape does not detract from high-end products, yet provides a strong visual deterrent, letting retailers openmerchandise with confidence.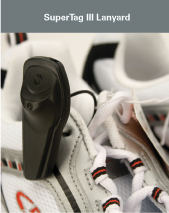 Retailer Values
Allows application to a wider assortment of hard-to-tag, high-risk merchandise
SuperTag, the gold standard in asset protection, features a patented clamp design for superior defeat resistance
Sleek, aesthetic design helps minimize impact to merchandise on display
Solution Application

Shoes, Handbags, Backpacks, Luxury Apparel, Sporting Goods
Product Codes

Tag (Gray): ZL303L-4G

Tag (Black): ZL303L-4B
Product Compatibility

Detachers

SuperTag Detacher

SuperTag Manual Handheld Detacher
Detacher Type

SuperTag
Environmental Constraints

Temperature

Maximum storage temperature not to exceed 60°C (140°F) for 96 hours at 80% RH.
Humidity

Unaffected by 80% humidity at 60°C (140°F), up to 96 hours.
Specifications

Color…………………. Gray, Black

Length…………… 69.0mm (2.72in)

Cable Length……….. 10.1cm (4in)

Width………….30.5mm (1.20in)

Depth…………… 18.8mm (0.74in)

Weight…………….11.9g (0.42oz)

(weight includes tack)

Pullout Force…….63.50kg (140lbs)
Loss Prevention Systems is a Global Authorized Partner – Contact us today for information on Sensormatic products.